One of my favorite movies of all time is The Money Pit.  Who didn't laugh out loud with Tom Hanks when the tub fell through the floor?!  Here's some of the best scenes and quotes from this classic 80's comedy.
#1  The stairs are out!
#2  Hahahaha Hahahahaah Hahahaha
#3.  Ow!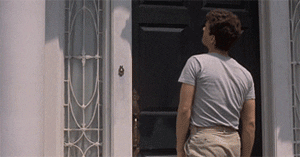 #4.  I'm right HERE!  I'm in the floor.
---
---
#5.  The ride from hell that ended like this…
#6.  Well the turkey's done
#7.  [inaudible screaming]
#8.  Two weeks, two weeks!
---
More Quotes You'll Love:
Quotes from Rushmore
Top Quotes from the Original Batman Movie
11 Funniest Quotes from The Naked Gun
So I Married An Ax Murderer Quotes
9 Quotes & Gifs from 'Fletch'
The Princess Bride Quotes
The Original Karate Kid Quotes
100+ Best Famous Movies Quotes