I've been working out since I was 12 years old when my dad bought the family a California Gold 2000 weight system.  I was certain this was going to get me looking like the fitness models I saw in the Calvin Klein ads (some could say I appreciated a good physique at a young age). Pumping iron served it's purpose because at the time I had developed a rather nice muscle definition even in junior high school but as I got older, and a little bit more of a perfectionist, I became unhappy with my lower half. I had big legs but I wanted a more solid, firm ass and a more defined trunk. This is why three years ago, I incorporated something into my workout that I now couldn't do without. I'm talking about Plyometrics.
What Is Plyometrics?
Plyometrics are exercise movements that are short and explosive-exerting all of your effort in each movement and entering into a new level of power! Plyometrics are mostly done in the lower plane of your body where the legs and core are worked to their limit.
What are the Most Common Plyometrics Exercises?
1.  Box Jumps

2.  Squat Jumps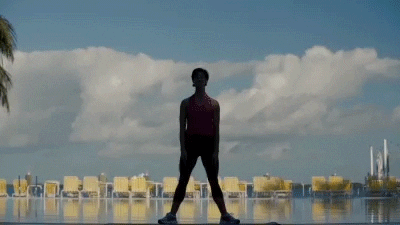 3.  Glute-Hamstring Raises
4.  Vertical Depth Jumps

5.  Burpees

6.  Lateral Heisman's (my favorite!)
How Often, How Many, How So?
When performing plyometric exercises, your body is working at a higher 80 – 90% of your personal one-rep max. This is important to understand where you will sometimes only be able to properly perform 2-6 reps of a certain movement. Remember, proper balance and stability is crucial to avoid injury in joints during high – intensity lower body movements such as these.
Incorporating 30 – 45 minutes of Plyometric training into your current routine 1-2 times per week will indeed increase your stamina, balance, flexibility, power, and give you that hard, round butt and defined trunk that everyone strives for.
For questions about these exercises or any others, please visit my website at www.FITNUT.org or email me at joshgrimm@FITNUT.org
You'll Also Love:
Following Us on Facebook
The Ultimate Kale Smoothie to Start Your Day
Everyone is Tired of Seeing This at the Gym
NeNe Leakes Quotes Like You've Never Seen Before
How to Get Jared Leto's Beard Style Now!