Full disclosure, I'm a Patriots fan. And yesterday's game made me angry. But not necessarily angry at the result of the game, but angry at what I had to listen to, and what I've had to listen to all season from Phil Simms. The offense I take from the telecast doesn't have anything to do with whether he said much  for or against the Patriots. I'm offended as a football fan with a more than rudimentary understanding of the game. Phil Simms has lost his ability to breakdown any football play and have his words actually make sense.
So without further ado, in no particular order here are some of the most idiotic things Simms said all day.
3rd and 5
Near the end of the 2nd quarter, the Denver Broncos had the ball 3rd and 5. Simms commented on how 3rd and 5 is exactly where the Broncos wanted to be, a term for which football coaches would call "on schedule." Let me explain by math: If you gain 4 yards on 1st and 2nd down, you face a 3rd and 2. If you gain 4 yards on 3rd down, you get a first down. 4 yard gains on 1st and 2nd down would make you on schedule (to get a first down). In absolutely ZERO cases, is 3rd and 5 considered on schedule. Ever. Not for a high school team. Not for a college team. Ever. Its simply NOT on schedule. But Simms just has no inability to help himself from complimenting everybody. I don't think he made a critical comment all day. And this is a theme.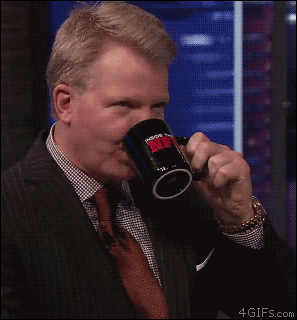 "Tom Brady threw it away"
Late 3rd quarter, Tom Brady skipped a pass to the sideline where Keshawn Martin ran an out cut. The ball was thrown 2-4 yards short and Martin was wide open. Now, the reality is these type of throws have very little risk if thrown on time (which this was). Brady threw a bad ball. But to Simms, he complimented Brady for not taking the risk and trying to complete the pass. It was mystifying. There wasn't any pressure. There wasn't anybody in the throwing lanes. And Martin was WIDE open. It would have been a perfect time to point out that Tom Brady wasn't playing a great game. Only instead, he went the exact opposite and told the audience that it was basically a throwaway.
QB Scrambling
Peyton Manning and Tom Brady aren't fast. They're not even considered slow at this point in their careers. They run at a tortoise speed. When they run, it actually looks like they're in slow motion compared to the rest of the players on the field (including the offensive linemen). Brady doesn't even run like a human, he looks like a horse learning how to walk. So when both he and Manning scrambled for a first down in the first half, what did Simms talk about? How fast they are! I'm not joking. I think he said they were deceptively fast. Absolutely. Not.