…but I did find Lisa Turtle so same/same?

Everyone goes crazy each time, former star of Saved By the Bell, Lark Voorhies goes out in public….mainly because to some people she looks like she's sporting a fright-wig and clown makeup.  And by "some people" I mean "me."  No one used to tease Bozo like this, so what gives?
Lisa Turtle was spotted at the Farmers' Market in LA on Sunday picking out some nice flowers and smiling for the photographers, just like you do when you're at Wholefoods.  Sure there are rumors that Lark may be battling bi-polar disorder and other medical conditions so I think we'll let the wig pass this time around.  Although it's very 'Whitney in the early 00's" crooked.  Moreover, it's legit the same as the bowl-cut that Lena Dunham rocked at the Emmy's last week and no one really called her crazy for that but, instead, "brilliant" and "iconic."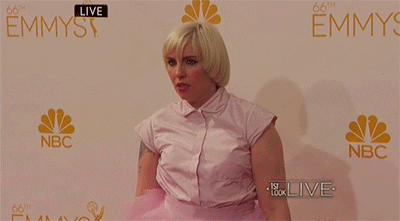 Truth be told, I say leave Lark alone.  But, truth be told again, I think there's a direct connection between bi-polar disorder and fright-wigs.  See:  Amanda Bynes and Britney Spears(allegedly and allegedly).  
Plus if you were wondering if Lark watched the Saved By the Bell untold story last night on Lifetime…
I did not watch , and will not watch .

— Lark Voorhies (@TheLarkVoorhies) September 2, 2014
More:
Most Annoying Facebook Posts That Have to Stop!
9 Things Everyone is Sick of Seeing at the Gym!
The Funniest NeNe Leakes Quotes Ever
14 Things EVERY Man in His 30's is Tired of Hearing!