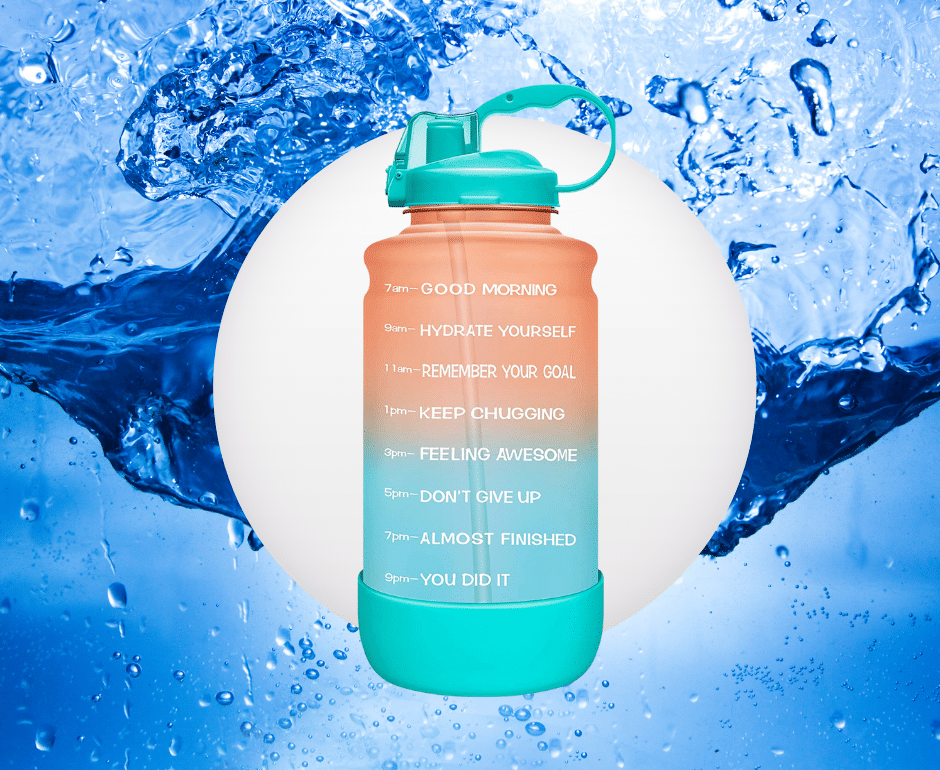 Raise your hand if it seems like you never drink enough water.  To be clear, we're over here raising our hand.  We have a million excuses.  We're too busy.  We forgot.  We got side tracked.  We accidentally reached for the wine instead.  All kidding aside, most of us know that we need to increase our daily intake, we just need a little help with the follow through.  Reminders are our best friend – and we're not embarrassed to say that we couldn't get through our day without them.
Since we're open to all the help we can get, we were more than happy to explore the idea of motivational water bottles.  Available in several different sizes, colors, and designs, these bottles simply urge you to press on.  They allow you to keep track of how much water you've had, but more importantly, how much water you still need to chug to stay on track.  Broken up into ounces throughout the day, these bottles are labeled with the time, and a fun little motivational phrase to help you stay on task.  Declarations like Good Morning, Keep Drinking, A Little Bit More, and Well Done will hold you accountable throughout your day.  And if you're the type that only responds to tough love, you'd better believe they have some that will throw a little profanity your way – and keep you in line.
Still not enough to make you throw back some water?  You'll need more than a few motivational phrases?  Enter smart water bottles.  We were really intrigued by these bluetooth water bottles, and the tracker apps that work along with them.  So if you're really into smart devices, and anything tech related, these are fun.  They'll keep your water cold, sync via bluetooth and light up when it's time to drink.  Sold!
So if you're looking to turn things around in the water department, these cheerful water jugs can be a fun option (or even a cool gift idea if you're trying to get your teens, or other family members to hydrate).
If you do decide to add to your water bottle collection, we've got some great ideas below, including:
→ A Smart Water Bottle That Syncs (Not Sinks) and Glows Via Bluetooth
→ A PG-13 Version with A Filter to Infuse Fruit
→ A Wide Mouth Gallon That's Easy to Clean and Fill With Ice
Shop our picks for some of the top motivational water bottles in 2023.
1.
HidrateSpark
STEEL Insulated Stainless Steel Smart Water Bottle
Starting at $59.99
Available in two lid options and two sizes (17 ounce and 21 ounce), this smart bottle also comes in 10 different colors.  Stainless steel vacuum insulated means that it can keep your water cold for up to 24 hours.  The LED smart sensor "puck" glows to remind you when it's time to drink more water, and it tracks your water intake by syncing (via bluetooth) to the Hidrate app.  And yes, you can customize the glow colors in the app!    Pick it up here.
---
2.
Uncommon Goods
Drink More Water Bottle
$15.00
This 16 ounce bottle is a little on the smaller side, so it's perfect if you need something a little more "portable" (ie. a gallon jug just won't fit in your cup holder).  This glass bottle also has plastic, silicone, and stainless steel parts that are BPA free.  Pick it up here.
---
3.
Elvira
One Gallon Motivational Time Marker Water Bottle
Available in over ten colors and patterns, this gallon sized bottle features a straw, protective silicone boot and is BPA free, anti-slip and leakproof.  The large mouth makes it easy to clean, and the large size allows for plenty of ice.  Pick it up here.
---
4.
Venture Pal
Half Gallon Motivational Water Bottle
This style comes in several different colors (including ombre and solid) and holds 64 ounces.  It features a straw and time marker, and is made from BPA free plastic.  The flip top lid is designed with a secure lock, making it leakproof.  Pick it up here.
---
5.
Fidus
32 Ounce Motivational Time Marker Water Bottle
$16.99
$11.99 (29% Off!)
The convenient flip top lid (with a secure lock) makes this easy to open and leakproof.  Available in several colors, this features a silicone straw, a portable strap and carry loop handle. It's also BPA free, with a wide mouth that makes it easy to clean, and easy to add ice.  Pick it up here.
---
6.
Cool Life
32 Ounce Motivational Tracking Water Bottle
Serve up a little humor with your water.  This 32 ounce funny water bottle features time stamps, and is lightweight and BPA free.  An added bonus?  It also includes a filter, so you can infuse fruit!  Pick it up here.
---
You'll Also Love:
Our Favorite Beauty Trends in 2023!
Gua Sha Facial Tools For Lifted Skin
Amazing Vegan Collagen Powders + Boosters
The Cult Favorite Face Mask We're Obsessed With For Clear Skin
The Best Weed Infuser Machines This Year
Amazing Paula's Choice Skin Care Promo Codes & Sales!