For everyone who's ever chickened out before saying the third "Beetlejuice" or started each and every day with "It's showtime!" we're proud to present you the 14 best quotes from one of the best movies of all time (ALL TIME); Beetlejuice:
14.  The ultimate resume builder:
13.  The origin of "emo"
12.  The timeless threat:
11.  The third "Beetlejuice" is when things. get. real.
10.  The best way to kick off any meeting:
9.  #Truth
8.  Finally someone who gets us:
7.  Hindsight is 20/20:
6.  Every NYC apartment I've ever looked at:
5.  Day-O.  Daaaaaay-O!
4.  When you're losing the peer pressure game:
3.  Every hangover:
2.  We're not in this alone:
1.  All day, every day: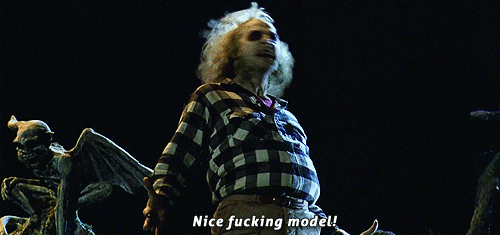 More Movie Quotes:
Best Quotes from the Original Batman Movie
11 Quotes from The Naked Gun
So I Married An Ax Murderer Quotes
9 Quotes & Gifs from 'Fletch'
The Princess Bride Quotes
The Original Karate Kid Quotes & Gifs
100+ Best Famous Movies Quotes